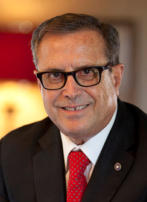 Luciano Di Martino - Conference Chair
An experience to share a future of service and peace
The New Generation Service Exchange Rotary program is aimed at involving enthusiastic personalities, who have reached the age of consent - indeed, "young adults" - placing them in an activity mainly consisting of service action, encouraging their professional development and stimulating their social interest.
Seeing, experimenting, knowing, understanding, coming of age, shaping personality, facing life with awareness, intelligence, serenity, and positivity: the readings, narratives, theoretical educational work are very important but they are not enough, they are not worth as much as the practical observations and real-life experiences. Above all, it is experience that transforms. And if it is acquired at a young age, experience is the basis for training, and therefore the stepping stone for future life. This is the fundamental principle of youth exchange programs, and in particular the one dedicated to Young Adults, whose peculiarity is the possibility that it offers to participate in activities that are not only qualifying for business and studies, but also socially useful. This makes people happy, gives impulses of intelligent experience and stimulates the desire to change the world, starting with a practical collaboration to improve the quality of life in certain countries where one has the good fortune to operate.
In particular, with their participation in the NGSE we want to offer young adults the opportunity to concretely get to know and appreciate the philosophy of Rotary service, the value of diversity and tolerance through a personal, direct and tangible life experience in different realities from the ones where they usually live. Indeed, at their age (19 to 30 years) they already are fully aware not only of the problems related to professional life and interpersonal relationships, but also of current profound crisis of the values of human solidarity, which - unfortunately - is typical of this time in history at the international level.
By participating in the NGSE, with the discovery of a different world from his/her own, each "young adult" becomes a citizen of the world, turning into a promoter and "standard-bearer" of Future of Service and Peace